Rhett and Link share who they think is the best superhero.
Upon showing their sponsor and revealing the winner of Best Cereal Ever, which was Cinnamon Toast Crunch, Rhett and Link give their list of superheroes and who their superhero pick is.
They begin with Superman, of course, who Link acknowledges, has "super" in the name. Then Spider-Man, who's has "spider" in the name.
Rhett explains they usually have what they are in the name. Though, he notes Daredevil does not explain his powers. He speculates he's either a stuntman or a blind guy who takes a lot of risks. Link thinks it's both.
Anyway, Rhett lists Batman, which Link says he has some thoughts on that he'll come back to later in the show.
Wolverine comes next, who Rhett thinks has a very good facial hair configuration and Link mentions has those awesome medal things [claws] on his hands. Immediately, Link apologizes that they are not comic book experts. Rhett adds that you shouldn't hate on them for spending their time making internet videos and not reading comic books.
Anyway, Green Lantern is presented thereafter. Rhett implies he doesn't have such a menacing name. "Oooh! I'm so scared!" "Is that a greenish light?!"
Speaking of lights, the Flash. Of course, he didn't have flash/light powers, he was just very fast.
Flash is followed by Wonder Woman, who Link says deserves her own seperate video, Aquaman, Captain America, Iron Man, Thor, Captain Britain, Hulk, who's television show Link was scared out of his pants by, Punisher, the Robin Hood-like Green Arrow and Hawkeye.
Now after these last few heroes, Rhett and Link begin their arguments on who's the best superhero ever. Link goes first and his pick is... you guessed it... Batman! His reasoning behind this is because he's a superhero who is technically not super. That itself Link thinks is awesome. Link thinks he's just one of those pull-up-your bootstraps guy, saw his parents die in front of his eyes... bats were involved. But he's awesome, Link continues. he has genius level intellegence, he's a master detective, master escape artist, in peak physical condition, knows 127 different forms of martial art, and has access to high-tech gadgets. Rhett thinks if we all had the training and money, we could all be Batman. So it's a bit inspiring.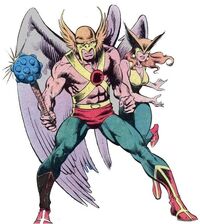 Rhett then takes the wheel and shares his best superhero, Hawkman. Why Rhett identifies with him? Well, Rhett and Link were once in a van with this drunk man. Rhett had to drive this truck for him because, you know, he was intoxicated. And Link is sitting between Rhett and the drunk man on a bucket, because there's too much stuff in the back of the van. Rhett doesn't really want to go in the details of what they were doing with this guy, it's too long a story. But he was talking to us, he just met us, again, he was drunk, and he told the two that, "Boys, I like y'all." And he then told Link he looked like a star and told Rhett, with drug-induced tears in his eyes, "Rhett, you look like a falcon." This compliment led to Rhett making his Mythical Beast name "Shahbaz" which means hawk king and this decision of best superhero ever.
In addition to that story, Rhett tells the viewers Hawkman has an amazing suit with wings and a ceptor, his backstory can't be pinned down, he's a man of mystery, and that, shockingly enough, his girlfriend fights crime with him as Hawkgirl, which he finds honorable and loving.
After that rant, Link spins the Wheel that lands on "Rhett is Hard of Hearing" with obvious results.