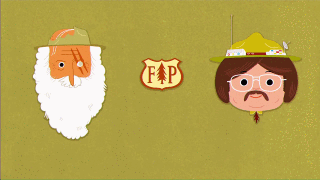 Forest Patrol
is about two forest patrol scouts and their wacky adventures working at their job.
Forest Patrol was created, written, voiced, and directed by Rhett and Link and was designed and animated by Davey Swatpaz. It is an animated series that premiered in the Mythical Show.
List of Episodes
Edit
Ad blocker interference detected!
Wikia is a free-to-use site that makes money from advertising. We have a modified experience for viewers using ad blockers

Wikia is not accessible if you've made further modifications. Remove the custom ad blocker rule(s) and the page will load as expected.