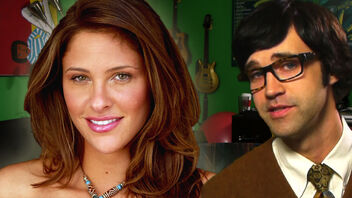 Jill Wagner (born January 13, 1979, Winston-Salem, North Carolina) is an American actress, singer, model and host of nationally-syndicated game show Wipeout.
She is more well known by Mythical Beasts as Rhett and Link's "Miss Perfect", the apple of the duo's eye during their tenure at North Carolina State University. Their encounters were retold heavily in Good Mythical Morning, episode seven, "How to Talk to Girls."
In response to the Good Mythical Morning episode, she guest starred in Episode 3 of its variety show successor, The Mythical Show, where she awkwardly reenacted a fake college interaction between her and Rhett and Link in a not-so-cleverly-named segment called, "Rhett and Link Reenact Not Talking to Their Crush in College But This Time Around Talking to Her For the Benefit of Single Guys to Give Them Confidence". It, unfortunately, doesn't go as planned and they redo the segment, instead with Goorgen.