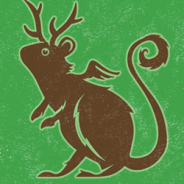 Mythical beasts
is the term coined by Rhett and Link to refer to their fans.
See also: Why "Mythical Beasts"? - RLVault 15
Recounted in the How We Met Song, Rhett and Link met in first grade and the two of them wrote profanity on their desks. Their teacher, Mrs. Locklear, caught them in the act and had them draw mythical beasts (unicorns, etc.) as punishment.
The term "mythical beast" came about when Rhett and Link made the RhettandLinkommunity, the social network on Rhett and Link.com. They needed a name for this group of fans, and they decided to let this group of people name themselves. People soon started suggesting and it came down to two finalists, the Randlers (RandLers) and the Mythical Beasts. After much deliberation, Rhett and Link decided Mythical Beasts because it centered less around themselves and more on the fans and everyone.
The Randler, however, was made the mascot of the RhettandLinkcommunity and "mythical beasts" themselves. And the Randler logo was also drawn and chosen by the Mythical Beasts.
Another important Mythical Beast, Belvedere the Cockatrice, is a white and scarlet fire-breathing rooster with the wings and tail of a dragon.  It rouses all Mythical Beasts with its fire and cry in the morning, promising prosperity and a new episode of Good Mythical Morning.
Specific BeastsEdit
Another cool thing Rhett liked about "mythical beasts" was that everyone could name themselves specific mythical beasts they could make up. Mythical beast names come in all shapes and sizes. Real mythical beasts are often used or incorporated. Though, mythical beast names are mostly made up.
Inclusion in Rhett and Link videos
Edit
Outside of the RhettandLinkommunity, Rhett and Link embrace and celebrate the "mythical beast" name in their videos. Good Mythical Morning, namely, the duo's talk show includes the word "mythical" to acknowledge the fans especially since it relies heavily on audience input and, on Fridays, voting.
Rhett and link also have a 2nd channel named as rhettandlink where they post written songs and music videos.Rhett and link have decided to call it their main channel.
The Tweak Mythical Shoes directly reference the cal Morning. Lolfam